Full-height Slab backsplashes are a trending addition to any kitchen. These beautiful back walls can complement any kitchen style and offer an added level of luxury that completes any kitchen design. Slab backsplashes are easy to clean and require little maintenance and give a kitchen a bold, unique look.


What is a Slab Backsplash?

A full-height slab backsplash is a backsplash made of one large sheet, panel, or slab. Slab backsplashes usually stretch the entire length of the countertop. You can design your kitchen with slab backsplashes of varied materials, such as natural stones like granite or marble. A slab backsplash offers a different visual effect for the walls above your countertop than tile because it stretches as one continuous, flat surface.


Why are Slab Backsplashes Trendy?

You can match a slab backsplash to your granite, marble, or other natural stone countertops to create a bold look for your kitchen. The continuous style ties the kitchen together and creates seamless style between your natural stone countertop and the wall.
The continuous, unbroken plane of a backsplash creates a very minimalist look in your kitchen, but the luxurious granite, marble, or other stone material creates a more traditional and classy look. The combination of minimal and luxurious along with modern and traditional is popular today. Tying in modern and tradition in kitchen design is simple when using a natural stone slab backsplash.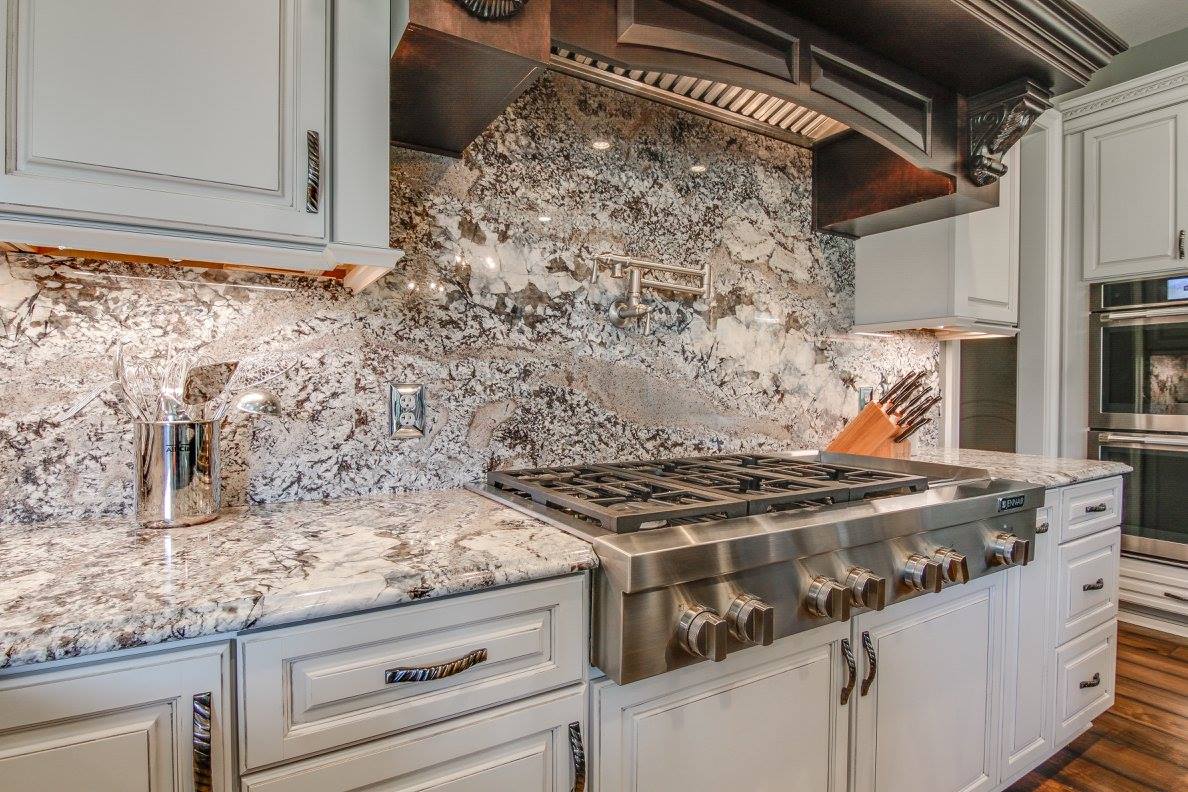 Benefits of Slab Backsplashes

The benefits of slab backsplashes are both visual and practical:
You can match the stone with your granite, marble, or any other natural stone countertop, creating a complete, complimentary look for your kitchen
Backsplashes create a unique, custom, and luxurious look for your kitchen
The continuous and seamless design of backsplashes ensure fewer dirt, and food particles build up, lessening the need for heavy-duty cleaning
Natural stone is easy to wipe and clean, perfect for walls in a kitchen where food and liquid mishaps can occur
Areas behind the oven/stove are prone to heat. Natural stones tend to be heat resistant, lessening the chance of damage to the wall behind your cooking device
Backsplashes look amazing in open concept kitchens where you can see the luxurious look from further away, but also in smaller kitchens to create a big, eye-catching and bold look
If you are looking for a unique style for your kitchen design or renovation, consider a full-height slab backsplash for your home. Both trendy and practical, a natural stone backsplash will elevate your kitchen's aesthetic instantly.
Choosing the right natural stone for your backsplash or kitchen countertops takes time and care. At Choice Granite & Marble we are determined to offer our expertise in natural stones like granite and marble, and well as interior kitchen design. Let us know if you have any further questions about kitchen design or slab backsplashes!